Since 2008 our company has been creating the home business industry's biggest and most successful marketers you see online today.
This is the condensed '7-Step Attraction Marketing Method' they all used to execute 'Attraction Marketing,' and to break free!
ATTRACTION MARKETING DEFINED: 'Attraction Marketing' is a marketing strategy that ATTRACTS customers and clients to you who already want to buy what you have to offer.
YES, you can eliminate rejection and get interested prospects reaching out to you asking YOU about YOUR business when you follow these 7 Steps…
(the following is an abridged version – Click Here for the Full Version of the 7-Step Attraction Marketing Method to DOMINATE Your Industry.)

STEP 1 – Brand YOU… YOU are the ONE!
The #1 fundamental first step to Attraction Marketing is you must BRAND YOU!
You must Brand YOU, NOT your company. People join people, NOT companies… that's why you must Brand YOU and NOT the company!
2 big reasons why you want to BRAND YOU, and NOT your company…
Companies come and go, but YOU are here to stay.
Network marketing and direct sales companies change their comp plans all the time, which leaves us entrepreneurs at their mercy if we are not prepared. Build your business on concrete, not quicksand… make yourself recession-proof… Brand YOU!
Branding the company guarantees you LOSE customers.
If you are branding your company all over social media, there will be a percentage of your prospects that 'google' the company before you connect with them… And chances are they will find another leader to work with or some bait-and-switch article telling them to NOT join your company. You will lost money guaranteed if you brand your company up-front.
FYI: 'Branding YOU' has NOTHING to do with your resume, how much success you've had, or how much money you've made (or not made).
Ironically, branding YOU has nothing to do with you at all really… it's about THEM… it's about the people you're going to serve…
Your prospect cares about ONE thing: Can you lead them where they want to go?
"But HOW do I brand myself and attract customers and buyers to me if I'm new and haven't made any money yet?"
We'll address that (and more) in step 2…
STEP 2 –  Define Your Audience
Before you can grow any business, you must first get crystal clear on who your audience is.
For example, if you're in a health and wellness company that you love, you're going to have to decide who your core audience is going to be…
OPTION 1: Are you most passionate about healthy organic foods, clean eating, diets, gut health, exercise & workout regimens, recipes, body hacks, etc?
OR…
OPTION 2: Are you most passionate about teaching and training generic home business owners how to get traffic, leads, and sales?
YES, there is a way to combine both brands creatively, and we will teach you how to create content for BOTH of the examples above in a way that attracts customers, clients, sales, and reps…
A great question to ask yourself:  What do I LOVE talking about?
Because you are going to have to get excited about creating content around this subject matter for your audience every single day… (which is super easy to do IF the subject matter sets your soul on fire! more on that in a second as we move to Step 3)…
STEP 3 –  Understand Your Audience's Biggest Challenges
It really is this simple…
First get clarity on who your target audience
Uncover your audience's top challenges, problems, and pains
Create content consistently that addresses their challenges, problems, and pains every single day
STEP 4 –  Create Content that Addresses Your Audience's Challenges – VALUE & SERVE
The best way to Brand YOU and become the Leader in your industry is to consistently create VALUABLE content for your audience…
So what the heck does that actually mean to you in practical terms?
VALUABLE CONTENT: Any piece of content that addresses YOUR target audience's top challenges, problems, and pains… content that provides solutions and answers that your audience would see VALUE in.
After creating thousands of success stories and profitable clients & students, we've come up with a very simple formula to DOMINATE your industry…
B-E-S
'Build your audience – Engage your audience – Sell to your audience'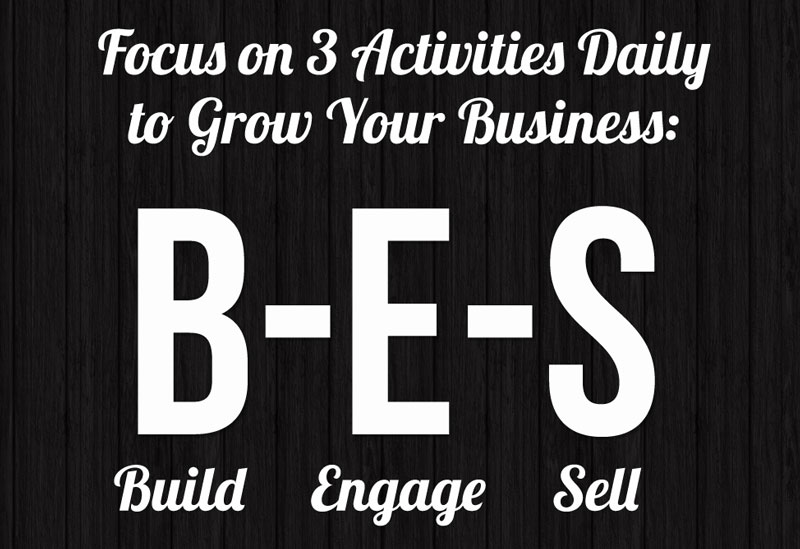 STEP 5 –  Build a Relationship With Your Audience
THE FASTEST WAY TO MAKE MORE MONEY IS TO TALK TO MORE (targeted) PEOPLE, period.
And we need to start thinking more long-term. If your prospect doesn't buy day 1, that's ok!
The timing may not be right for them, or they may require more rapport, trust, or value from you before they do business with you.
Start thinking more long-term, begin building and nurturing real relationships, and keep creating real value for your audience.
STEP 6 –  Uncover Their Pain & Provide the Pain-Killer
YOU CAN'T PROVIDE THE PROPER PAIN KILLER UNTIL YOU CONNECT WITH YOUR PROSPECT, AND DISCOVER THEIR SPECIFIC NEED!
Each prospect is going to be different, and each will be looking for a unique solution to their specific problem.
The best way to uncover each individual prospect's pain is to take the time to connect and actually talk with them.
It's so simple:  Discover & pinpoint their biggest problem, and provide the perfect solution (i.e., point them to your product or service).
STEP 7 –  Embrace Multiple Income Streams & Make Money From the 90% Who Say NO
This was HUGE for me, and is a key component of what took me from 3 years and $30,000 in debt to my first 5-Figure Month.
If you only have 1 revenue stream, it's going to be almost impossible to create financial freedom online.
ALL top earners online embrace multiple income streams, period.
90% of your prospects will NOT be interested in your specific business opportunity…
But instead of just saying good-bye to 90% of your prospects…
What if you could still connect with, serve, build a relationship with, and offer the 90% who say NO a SOLUTION that solves the problems they already encounter (or will inevitably encounter) as a home business owner?
ALL BUSINESS OWNERS REQUIRE LEADS AND MONEY – so what if you could ask the people who say NO a very simple question…
The Full Version of the 7-Step Attraction Marketing Method gives you the 1 question that allows you to Make Money from the 90% who say no.
Now you know the '7-Step Attraction Marketing Method' to break free… now go execute!
Keep Growing, Keep Getting Better and Better, and remember You Are the One!
– Brian Fanale